Have you tried Magic Duels yet? Here are 5 great reasons why every Magic: The Gathering player should give Magic Duels a go
In today's world of online gaming, card games aren't represented well. While the number of active online card games is actually fairly large, a lot of them are reviewed very poorly, don't have long shelf lives, have near-nonexistent player bases, or are prohibitively expensive to get into. There are exceptions, of course- both HearthStone and MTGO (Magic: the Gathering Online) are very popular, for example- but those are few and far between.
I'm here to argue that Magic Duels is steadily becoming one of the most playable online TCGs out there, and one of the more interesting (if not under looked!) competitive Magic: The Gathering environments seeing regular play.
You can download Magic Duels for free here.
5. Magic Duels is free to play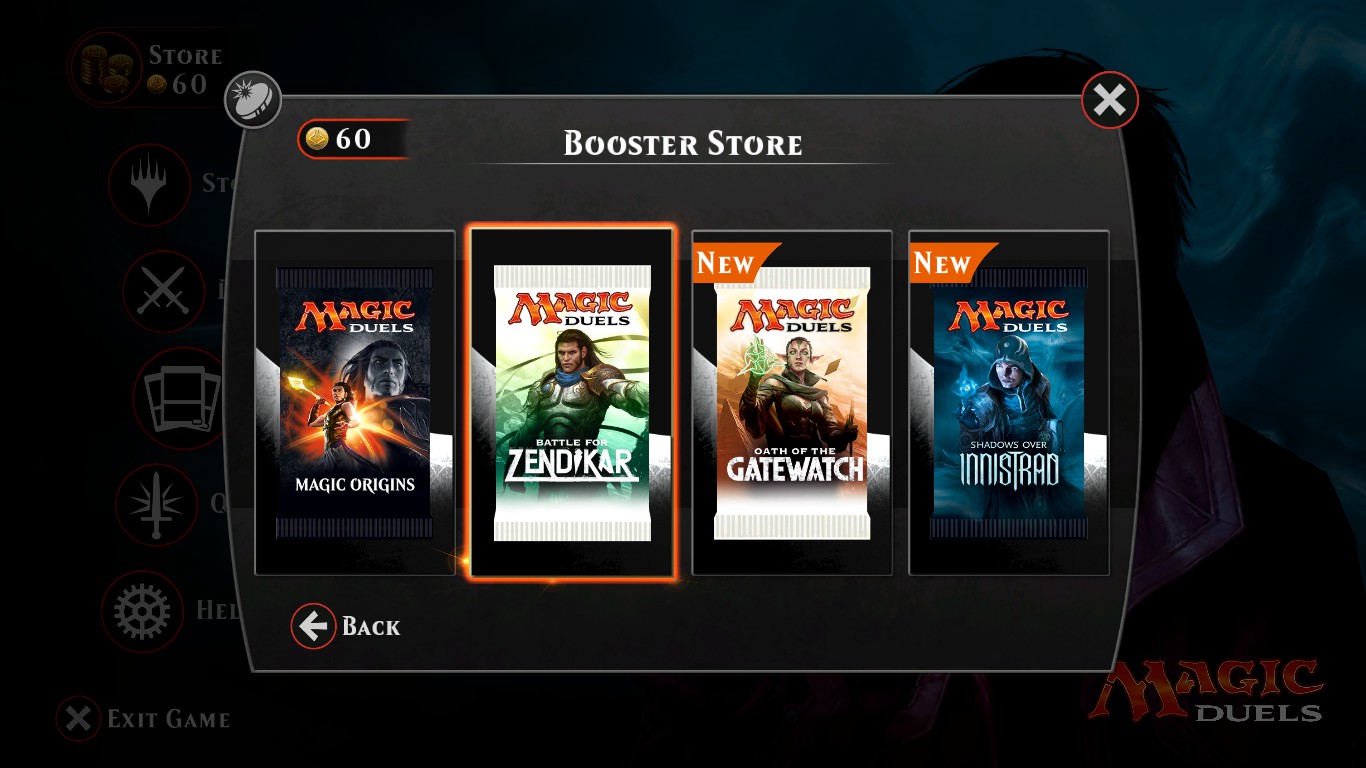 Those who are somewhat experienced with digital gaming know that "free to play" gaming is generally followed by a huge asterisk. Thankfully, with Magic Duels, that asterisk is a little smaller than most. While Magic Duels does allow you to save time earning gold to buy cards if you decide you want to spend real currency on the game, in game currency is actually relatively easy to access without spending a dime. Completing the campaign for each set earns you a starter pack you can use to play against the AI and other players in PVP modes, as well as enough gold to buy about ten packs worth of cards over the course of those campaigns.
4. It doesn't force PVP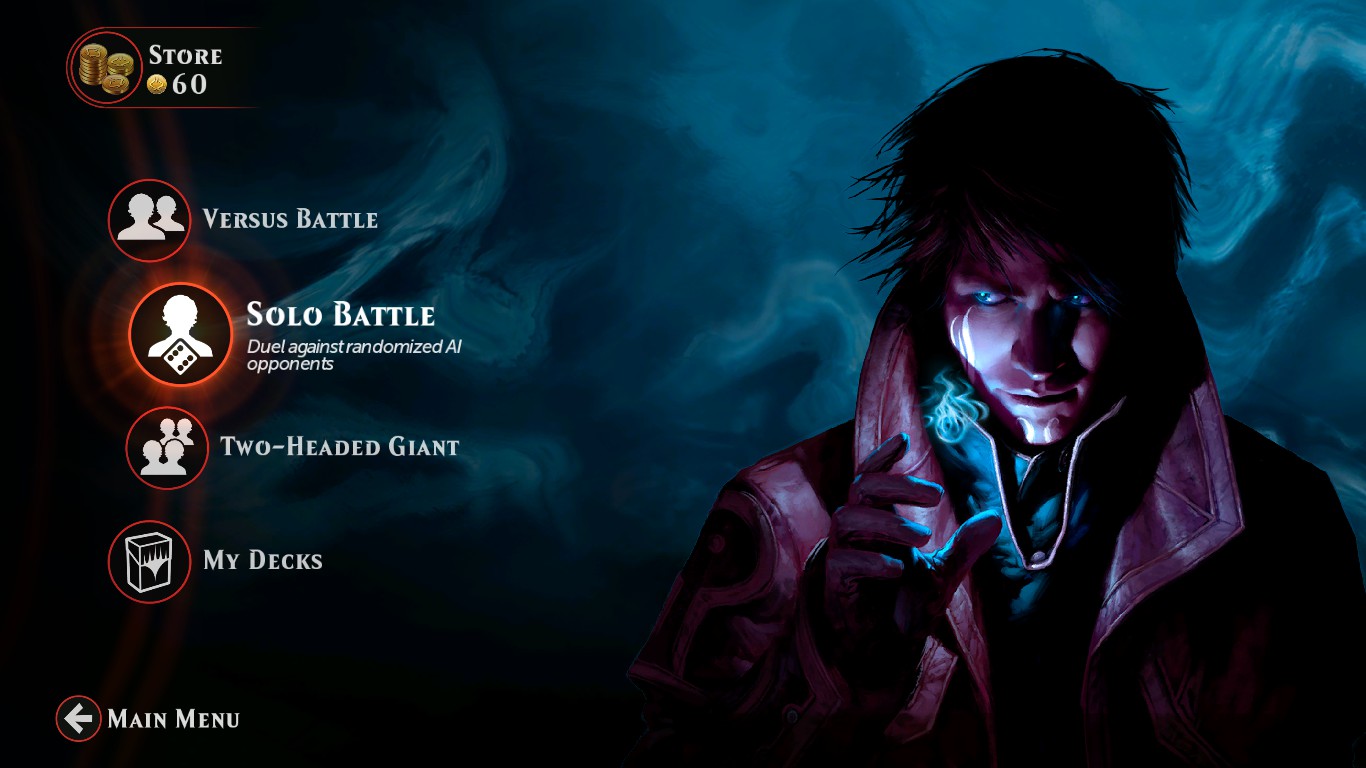 If you're anything like me, you were turned off by games like Hearthstone forcing you to play against online players with much better card pools while you grind to earn gold in the hopes of staying competitive. Magic Duels has provided two workarounds, allowing you to earn gold without going toe to toe with competitive players right off the bat.
First, Magic Duels has the aforementioned story mode which mostly functions as a campaign- running you through a series of (somewhat gimmicky) duels against the AI, representing abridged versions of the stories represented in recent sets. This mode of play feels similar to previous Duels of the Planeswalkers titles and earns you gold to spend on packs.
Second, Magic Duels lets you play 1v1 games against the AI at varying difficulties for various amounts of gold. This works just like the PVP (player vs player) system, except it doesn't affect your seasonal rank, it isn't timed, and it is played against the computer.
3. There's no other format quite like it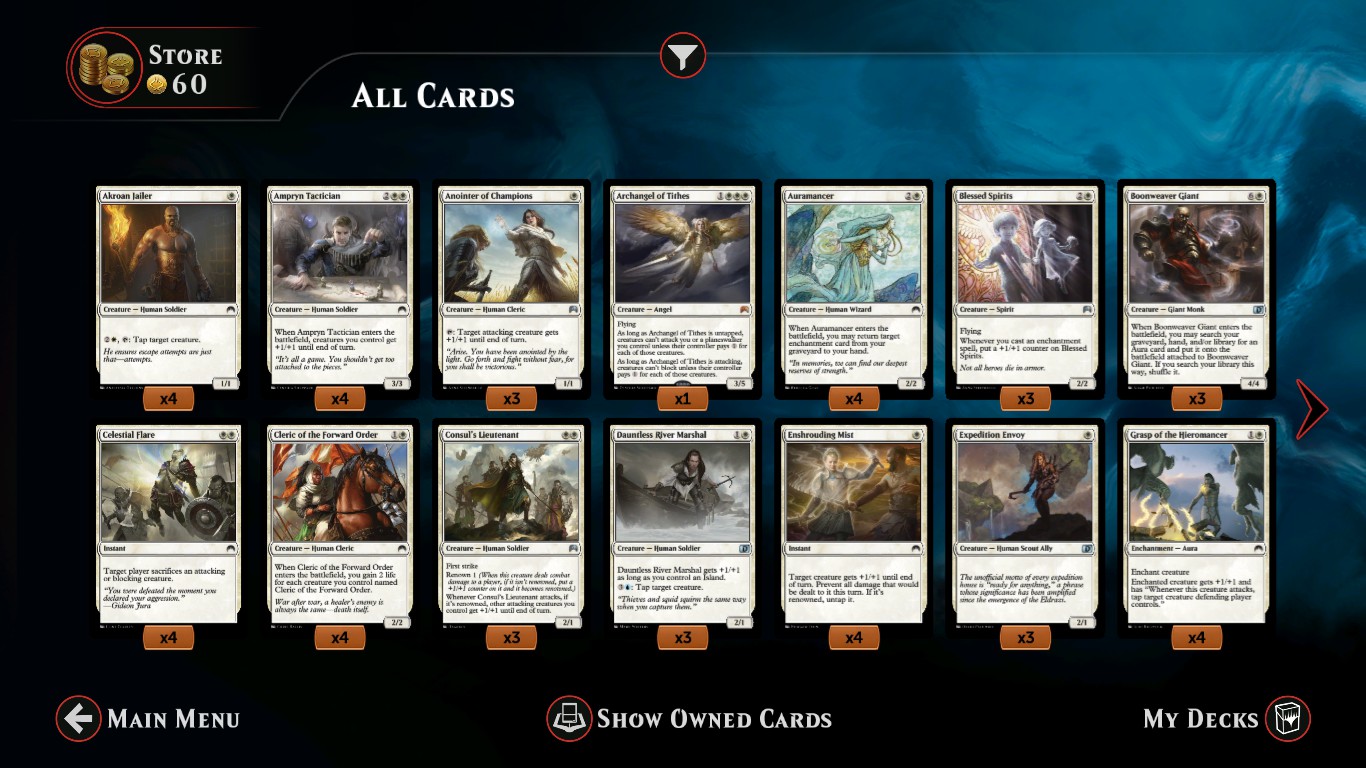 Magic Duels operates on a rarity-based, faux-highlander deck construction system. Let me explain.
Like your average constructed format, Magic Duels requires you to build a deck with a minimum of 60 cards. This is pretty much where the similarities between Duels and every other constructed format stop.
Magic Duels only lets you play a certain number of each card, based on that card's rarity. You can play four of each common, and one of each mythic- and the system scales between that exactly the way you'd expect. Duels is also played one game at a time- there are no matches, and there are no sideboards -forcing the typical approach to deckbuilding to include a larger variety of answers. What this means is that cards at lower rarities often have a bigger impact on the format than those at higher rarities, given the frequency at which they show up.
If you're a new player, this is probably good for you. Duels can teach you to make the best of the commons and uncommons you own, and help you get into various limited formats by teaching you the value of those commons and uncommons in those formats.
If you're an experienced player, this probably sounds off putting- but it's really something that you can't weigh the merits of until you've experienced it. Having played Magic: The Gathering for thirteen years, I am thankful for a variant of Magic that forces me to see the game through fresh eyes. While the format likely sounds like Peasant or your average draft environment from a distance, this couldn't be farther from the truth. We are talking about an environment with a variety of unique and relatively powerful strategies, some built around cards you'd otherwise never give a second thought. A format where Jace, Prodigy of Vyrn and Gideon, Ally of Zendikar are strong- but where Mwonvuli Acid-Moss and Perilous Myr were effectively banned because of the way they warped the environment. A format where Evolutionary Leap helps form the backbone for midrange/attrition decks, where playing Cruel Revival over other kill spells is feasible in some shells just because it lets you bounce back your Fleshbag Marauders, and Rolling Thunder indicates an upcoming, equally terrifying Ulamog, the Ceaseless Hunger.
2. It's available on multiple platforms
The average Magic player almost certainly owns a platform which Duels is playable on. It's not an exceptionally demanding program despite it's clean interface, and while most players play the game on PC via Steam, it's also available on iPhone/iPad, and Xbox One, with a planned release on PS4 in the relatively near future. While there's no cross platform play yet, Stainless has expressed some degree of interest in implementing it in the future.
1. If it's not a big deal yet, it's going to be
In November 2015, Hasbro quietly mentioned that Wizards had a plan to bridge Magic Duels with MTGO via an interface named Magic Digital Next in a slideshow for investors. While Wizards has yet to say anything in an official capacity, it's suggested that Wizards is trying to give their digital platform an overhaul given the negative criticism they've received for MTGO over the last couple years.
This was largely forgotten about until recently, when Wizards announced that the President of Wizards of the Coast, Greg Leeds, has resigned and will be replaced by Microsoft Vice President Chris Cocks. This seems like a good start towards trying to restructure your digital image to me- I hear Microsoft is a big name these days.
Once again, you can download Magic Duels for free here.
I hope you found the information presented here useful, and that you might be more inclined to check out Magic Duels. If you have played Magic Duels then please let me know what you think of it, if you've not yet played it then please let me know why in the comments below!
Until next time,
Alexandros Chapin
5 Great Reasons Why Every Magic Player Should Give Magic Duels A Try, by Alexandros Chapin
I'm here to argue that Magic Duels is steadily becoming one of the most playable online TCGs out there, and one of the more interesting (if not under looked!) competitive Magic: The Gathering environments seeing regular play.
Please let us know what you think below...