Recently some of you may have seen a deck that top 32'd the SCG legacy open on May 6th, for those who didn't:
4 Bloodbraid Elf
4 Noble Hierarch
1 Scavenging Ooze
3 Snapcaster Mage
3 Tarmogoyf
1 Vendillion Clique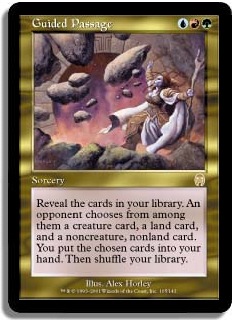 4 Brainstorm
4 Force of Will
4 Lightning Bolt
3 Punishing Fire
3 Guided Passage

3 Jace, The Mind Sculptor
1 Sylvan Library

1 Forest
2 Island
1 Mountain
4 Grove of the Burnwillows
4 Misty Rainforest
4 Scalding Tarn
1 Taiga
2 Tropical Island
3 Volcanic Island

SIDEBOARD(15)
2 Vendillion Clique
2 Ancient Grudge
2 Pyroblast
2 Spell Pierce
4 Submerge
1 Surcial Extraction
2 Tormod's Crypt
Those who read my articles will find this list a bit familiar, whilst there are some obvious differences, it shares a lot with a deck I shared on May 6th last year called "Crucible of Words – Bloodbraid Balance by Cyrus Bales".
Obviously the format has evolved a lot since I wrote that article, but it seems Bloodbraid Elf cascading into Guided Passage is still a powerful card advantage machine, even if it's a little unorthodox.
But let's look at the old list and see how it stacks up to the current format:
4 Bloodbraid Elf
3 Terravore

4 Counterbalance
3 Sensei's Divining Top
3 Jace, The Mind Sculptor
1 Crucible of Worlds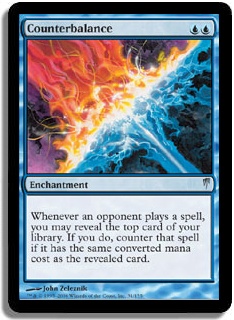 2 Boom // Bust
2 Guided Passage
2 Slagstorm

4 Force of Will
4 Brainstorm
4 Punishing Fire

4 Grove of the Burnwillows
2 Tropical Island
2 Volcanic Island
1 Taiga
4 Misty Rainforest
4 Scalding Tarn
4 Wasteland
1 Mountain
1 Forest
1 Island

SIDEBOARD(15)
3 Ancient Grudge
3 Sower of Temptation
3 Trygon Predator
4 Tormod's Crypt
2 Slagstorm
Well, the format as it stands now is a lot more heavily based on creatures and combo decks have fallen by the wayside a little leaving Sneak-Snow as the main part of the combo field. Combo decks were actually a pretty bad match up for this deck, since you could remove creatures and bury aggro decks under superior cards and card advantage, but combo decks could kill you quick or blank a lot of your deck which wasn't fast enough to race them. That change in the meta is definitely a boon to this deck.
Threat wise; Terravore is still able to outclass the other big threats, being able to beat Knight of the Reliquary a lot of the time as well as trampling over Lingering Souls tokens and eating Tarmogoyfs. The Bloodbraid Elves are a little better than before, since they can trade with a lot of the creatures in growingly more popular Maverick deck.
Removal wise; Punishing Fire can chew through the non-Knight creatures in Maverick and eat a Delver of Secrets or pre-threshold Nimble Mongoose. Slagstorm is value town at the moment, since everyone is committing guys to the board, having an answer to a pumped Mongoose or a filled up Maverick board is going to be useful more often than not. Adding Lightning Bolt feels like it could be a necessary change to avoid falling behind too much in the early game.
Counterspell wise; Counterbalance can be a devastating tool, against RUG Delver, you can supress all their one drops (of which they have an awfully high amount of) thanks to Sensei's Divining Top; The seven four CMC cards can attempt blocking a Sneak Attack. Obviously having a more stretched curve and running Counterbalance can be a little awkward, thankfully being able to rebuy Punishing Fires to stick on top of your deck as a reusable Spell Snare can cope with this curve.
Card advantage wise; Guided Passage[/card here is good value still and [card]Jace, The Mind Sculptor fits in with your engines incredibly well and provides a little bit of protection if you need to bounce that Goyf or Knight to buy you time to control the game. The deck still seems able to use Force of Will effectively enough without losing fatal card advantage, but I could see dropping it to three main deck copies.
What about that land destruction stuff? Good question, with fewer control decks hanging around and answers for creatures needing to be more readily available, the land destruction theme here seems a little weak. Yes the Crucible of Worlds for extra mana and recurring Wastelands seems solid as a singleton, but the Boom//Busts don't feel a great fit anymore.
So, what's come along in the last year that could want a space in the deck? Snapcaster Mage is obviously very strong, but he doesn't interact with that much of this deck and would probably only squeak in a copy or two if I could also fit in a full set of Lightning Bolts and maybe something else. Scavenging Ooze however, is more mind-blowing than a Chocodile. Just read it and you see it's pretty nuts, and throw in the fact that this deck generates a fair bit of mana to use his ability and can cascade into him then you have a winning combination. There are a few other bits and pieces kicking around that are noteworthy, Thought Scour has some degree of synergy, but can also mess with the top of your library and thus your counterbalance if the opponent points one at you.
As we saw in the list from SCG, they decided to include some Noble Hierarch to help with the slow starts that the deck can sometimes need to pull through. I quite like the adding of a one drop to my list, but with the nature of deck(and me as a player) being more controlling, I prefer the prospect of Lightning Bolts and perhaps even Forked Bolt. Another change I'd like to make is to utilize the card selection this deck has more, which surpasses almost every other deck in the field, and run fewer numbers of cards so I can play more cards that can be game breaking when found at the right time. Cutting back on a Bloodbraid Elf to begin with seems like a perfectly fine start, trimming other numbers is a little trickier though and I do still want a Vendillion Clique in the deck somehow.
I suppose it would be rude not to have a stab at the reworked decklist, so I'll leave you with this first draft:
BLOODBRAID BALANCE 2012
3 Bloodbraid Elf
3 Terravore
2 Scavenging Ooze

4 Counterbalance
3 Sensei's Divining Top
3 Jace, The Mind Sculptor
1 Crucible of Worlds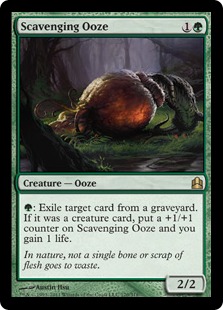 4 Brainstorm
4 Punishing Fire
3 Force of Will
2 Guided Passage
2 Slagstorm
2 Lightning Bolt

4 Grove of the Burnwillows
2 Tropical Island
2 Volcanic Island
1 Taiga
4 Misty Rainforest
4 Scalding Tarn
4 Wasteland
1 Mountain
1 Forest
1 Island

SIDEBOARD(15)
1 Force of Will
4 Spell Pierce
2 Ancient Grudge
2 Slagstorm
2 Lightning Bolt
2 Thrun, The Last Troll
2 Tormod's Crypt
Thanks for reading, and thanks for sharing.
Please let us know what you think below...